Buy the Backblaze storage NAS in South Africa
At eNetworks we have recognised the massive need that exists for high density, well priced, storage. So we scoured the Internet for a solution. We were thrilled to come across the Backblaze data storage system.
Backblaze is a company in the USA that specialises in on-line back-ups. They quickly realised that until they brought their storage costs down, they really didn't have a business model. Using the storage industry leaders such as HP, Dell and EMC proved impossible. So they decided to build something themselves. They were kind enough to post up plans for us to use freely, and so we did.
We have taken this initial design and have made a few changes. Their base product only allows you to access data using the HTTPS protocol. We realized that iSCSi was really what everyone would want.

So we have installed the fantastically good RAID management software from Open-e instead. This allows us to use commercial grade software, on top of the low cost hardware to create an easy to manage and feature rich network attached storage solution.
Attached Storage (NAS), iSCSI, InfiniBand and Fibre Channel SAN (Storage Area Network) functionality all in a single, easy to use storage application. Open-E DSS also provides, Automatic Failover and Failback for high-availability, Remote Mirroring for disaster recovery, WORM (Write Once Read Many) support for digital archiving, and NDMP (Network Data Management Protocol) support for universal backup - ensuring better data security, increased fault tolerance, and improved availability of all data, ultimately delivering better overall performance and value.
The chassis has 45 slots. Maximum capacity with 3TB hard drives is 135TB of RAW storage. If you run RAID-6 (two parity drives) your usable space comes down to 117TB. We are able to customise this solution for you, allowing you to mix and match drives to create faster/smaller LUN's. Incorporating faster 10000rpm drives on one of the controllers (up to 15 Drives) will make this possible. Speak to us about how you would like your system configured. We are even able to deploy SSD drives for super fast access.
Our hard drives all come with a 3 year warranty and are locally sourced, so you have no warranty issues. All parts inside the chassis are easy to swap out in the event of failure.
Pricing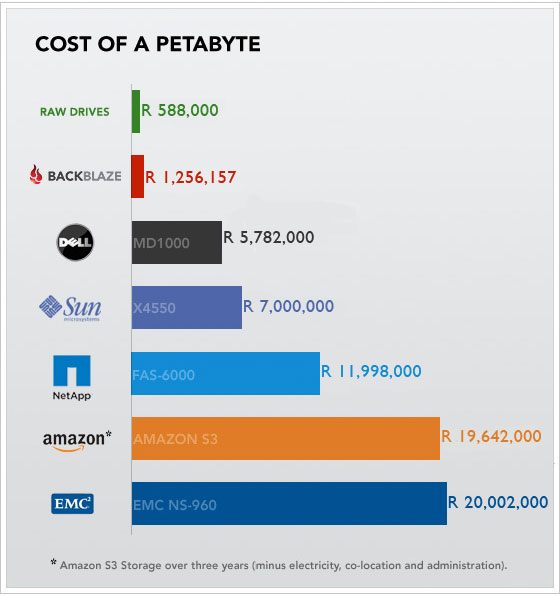 This is indicative pricing and we are working hard to lower this price further. As we start doing volumes purchase and shipping costs will come down. We will be sure to pass this on to you.
| | | |
| --- | --- | --- |
| SRVR-135 | Server + 135TB Storage | R170 875.29 |
| SRVR-90 | Server + 90TB Storage | R132 863.53 |
| SRVR-60 | Server + 60TB Storage | R121 922.35 |
*based on $1=R8
Prices exclude VAT and include setup, configuration & 48hr burn-in.
Basic Configuration Includes:
Dual Gigabit Nic Cards
Dual Power Supplies
45 Drive Slots
3 Year Warranty on the Drives
1 Year warranty on Chassis and Server parts
19" Rack-Mount-Kit
iSCSi Software
3 Hardware RAID controllers
Mail
This email address is being protected from spambots. You need JavaScript enabled to view it.

for a firm quotation